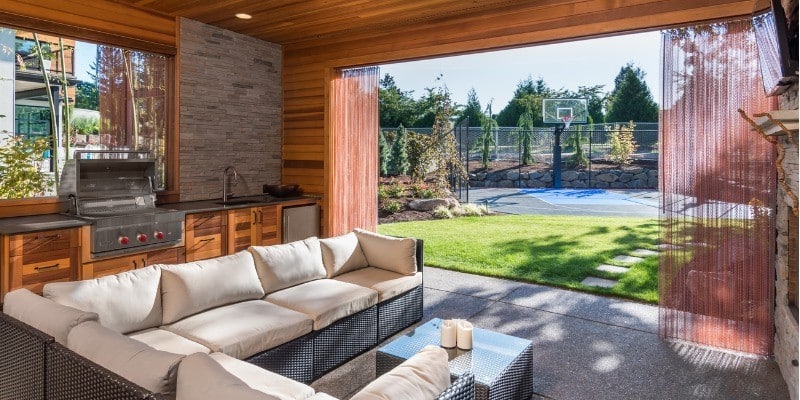 Modern landscaping has evolved from well-trimmed shrubbery and vegetable plots into an array of outdoor features. Homeowners are taking advantage of the land they own – developing spaces to enjoy year-round. Including sports areas in your landscape design is a great way to combine a certain aesthetic and activity into any outdoor space.
Here are some of our favourite landscape design ideas for families looking to expand their greenery.
Backyard Bowling Alley Conversation Piece
A backyard pool or firepit are common landscaping installments, but how about a bowling alley? Building a bowling lane isn't as hard as you think. Using weather-treated wood (for longevity), a narrow platform with a gutter-sized groove is all you need. Connecting the pins to the floor and using a string and pulley system, you can even reset the pins with the tug of a rope. All this without much more work than a basic deck build.
Before getting started on a bowling alley project, choose a portion of the lawn, which is level. A lopsided alley will leave balls hitting the gutter or missing their mark.
Putting Green Landscaping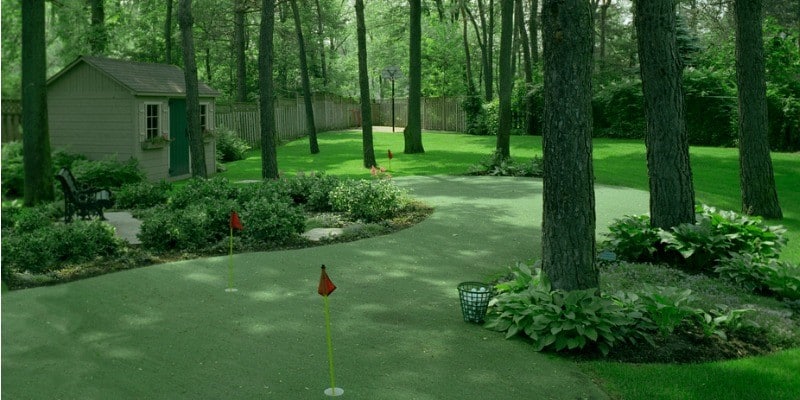 One look at a lush green lawn has any golf enthusiast itching for a club. Installing a miniature putting green is a great way to scratch that itch. Putting green landscaping can use real or synthetic grass. Posts, flags, and cups (to retain holes) make up the rest of the green. Depending on your personal taste, you can jazz up your golf course with obstacles, or keep it traditional.
A putting green, when done naturally, is an excellent garden feature because it offers flexibility during the off-season. When the ground is covered in snow and putting is out of the question, the space can be recycled into an outdoor skating rink until the spring thaw.
Tennis Court Landscaping
Tennis courts add curb appeal and value to your property. They also provide hours of fun and practice. If you a goal of home ownership for you is full-on luxury living, nothing says opulence like a full-sized tennis court. From weekend doubles matches with friends to family games after dinner, there's plenty of incentive to plot a tennis court.
Tennis courts require more level land than smaller projects, like a bowling alley or putting green. One benefit of a tennis court, however, is it can be used for multiple sports, such as badminton and volleyball.
Backyard Basketball Court Landscaping Ideas
Basketball has become a widely popular sport for all ages. Having a court in your yard promotes an active lifestyle, keeps kids practicing, and provides plenty of entertainment.
Like tennis courts, basketball courts require some serious thought on zoning. Not only because they take up a large chunk of land, but also because they require a smooth solid surface. One problem associated with level playing court projects is tree roots. Thick and strong, roots grow underground and push up through these materials, damaging them. Consulting with a specialist before construction reduces the risk of this happening.
Enjoy Your Land
Hopefully, these sports landscape design ideas have given you some motivation for your own property. There are so many ways to enjoy your outdoor space, contact Natural Landscape Group today to learn more.
REFERENCES:
http://www.tennisindustrymag.com/articles/2014/03/court_construction_maintenance_2.html
https://www.familyhandyman.com/landscaping/12-diy-backyard-games-and-sport-courts/
https://www.backyardboss.net/backyard-sport-court-ideas/