If you have a deck, or are certain that you want one, you'll need to surround it with sound landscape design. There are many landscaping ideas built around decks. The goal with each deck design is to provide the perfect base for a backyard setting, while strategically combining the deck with various creative backyard features.
When designing your landscaping, it's smart to start with your deck. Decks increase your home's value and provide the platform for your entertaining and relaxing space. Decks can also set the aesthetic for your space, as they are available in many different colours and finishes.
Before you choose the exact size and shape of your deck, plan out the features you'll build around it, so they can work together perfectly:
Pergolas
Pergolas are a great way to make a more intimate and private space that is protected from the elements. Whether your pergola is built into your deck, or off to the side, you can add plants and outdoor lighting to make the space unique and functional.
Choose a rustic pergola to get the Italian-villa feel, or opt for a white, modern pergola.
Tip: If you're planning on sitting on your deck in early spring, make sure the pergola can catch rainwater.
Curtains or Lattice Walls
There are two other clever ways to get privacy on a deck: curtains and lattice walls.
The main advantage of curtains is that they can be adjusted. Need to block the sun, or have more privacy? Close the curtains. Need to let in fresh air or admire the view to your garden? Open them up.
Curtains also offer you the chance to include more fabric in your outdoor space. Coordinate your curtains to match your outdoor furniture to get the most unified space.
Lattice walls are a much more permanent addition to your deck, but they have benefits too. You can grow climbing plants on your lattice, adding greenery to your deck space. Plus, you won't need to bring in your lattice in inclement weather, as you would with curtains.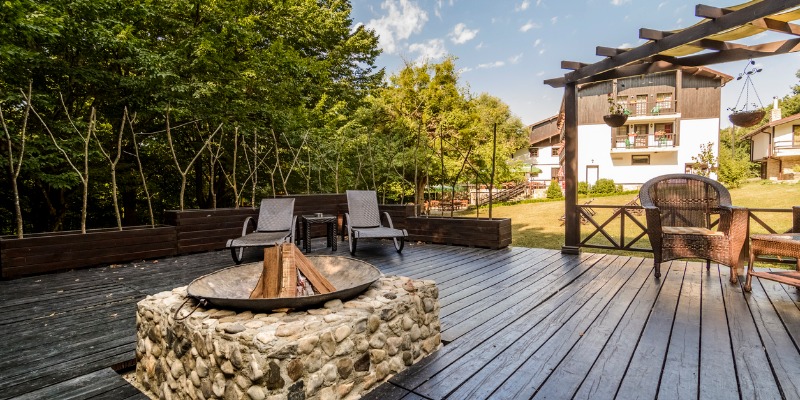 Fireplace and Outdoor Kitchens
Both fireplaces and outdoor kitchens bring the risk of fire, so they need to be incorporated with wooden decks carefully. If you've yet to build your deck, you're at an advantage.
You can choose a fireplace and position it centrally in your backyard, then build the deck to surround the fire. This makes sitting fire-side much more comfortable with a flat, stable base for your chairs.
Tip: Choose a rustic, natural deck to match a country fireplace.
An outdoor kitchen needs a deck to support it and needs to connect to your main entertaining space. A short walkway between the two spaces will make your backyard feel more elegant and larger.
Did any of these ideas spark your interest? At Natural Landscape Group we can make all your backyard ideas a reality. Bring us your inspirations and we'll design a landscape built around your deck. Contact us today.