Trust Us with Your Hamilton Landscape Design
In Hamilton, landscape design can help make your after-work hours more enjoyable. Do you want to return home after a long day to a peaceful, rejuvenating outdoor living space? Or do you want to come home and entertain your friends in an inviting party space?
Whatever you desire, the Natural Landscape Group can help you achieve it. Your back yard should reflect you and allow you to spend time doing what you love, whether that's cooking, gardening, or swimming.
Your front yard might need some attention too. Do you need to boost your curb appeal, attract potential buyers, and increase your property value? A unique, thoughtful design from the Natural Landscape Group can help you do just that. Talk to us about your individualized landscape design ideas and we'll help you create the perfect outdoor space for your entire property.
Choose us for your landscaping in Hamilton and experience the difference of a thoughtful, dedicated landscape company.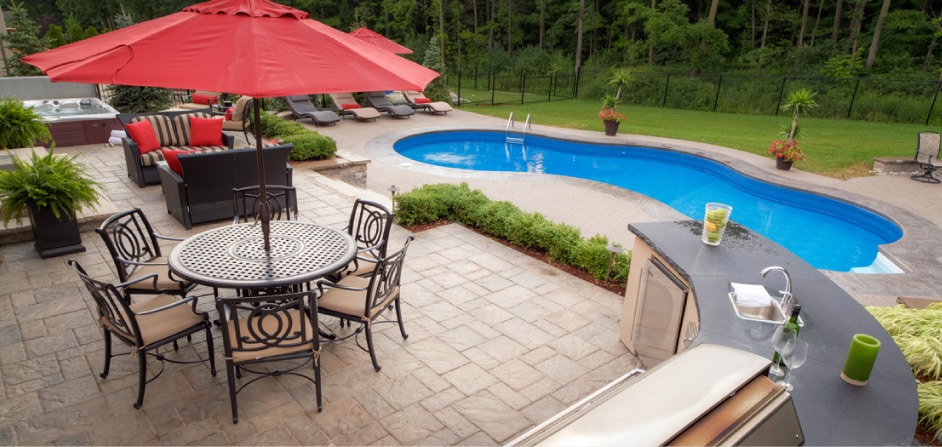 Landscape Lighting for Your Hamilton Landscape Design
In far too many landscape designs, the outdoor lighting seems like an afterthought. The Natural Landscape Group incorporates your landscape lighting right from the start, so it can achieve a few different purposes, including:
Creating a mood: Skilled designers can use lighting to set a certain kind of ambiance in your outdoor living space. Imagine soft lights hanging from your custom pergola to create a romantic atmosphere. Or, colorful lights in your pool space that make nighttime swimming more fun.
Security: Carefully placing lights in a few key areas can help deter theft. No thief wants to work in full light.
Safety: It is critical to place lights along walkways end near deck and pool edges to keep your family and friends safe. Lights will also help you feel comfortable venturing out into your yard at night, which makes the space much more useful.
Highlight features: Placing lights below or above your outdoor living space's most beautiful features is also a way to enhance them at night. Waterfalls, trees, fountains and benches are all great options for a little extra lighting.