Landscape Design in London – Your Trusted Landscape Contractors
Looking for landscape design in London? London is a growing area, so many homes here were built recently, and to quality standards. But they aren't complete until their landscaping is turned from flat green grass into a practical, full space where your family and friends can relax. Whatever you need from your yard—a space to entertain, swim, or garden—we can help you achieve your vision.
Businesses need great landscaping too. You need to attract customers and your landscaping has to reflect the quality of your goods and services. If you need to stand out, and create a flawless impression on your customers, choose a landscape design from us.
As one of the leading landscaping companies in London, Natural Landscape Group has won many Landscape Ontario Awards of Excellence for our landscape designs. We create stunning and original landscapes that truly reflect your style and needs. What you want will always come first, and our design process is tailor-made so that we can always incorporate what you love into your landscape.
Choose Natural Landscape Group for all of your landscaping needs in London and the surrounding areas.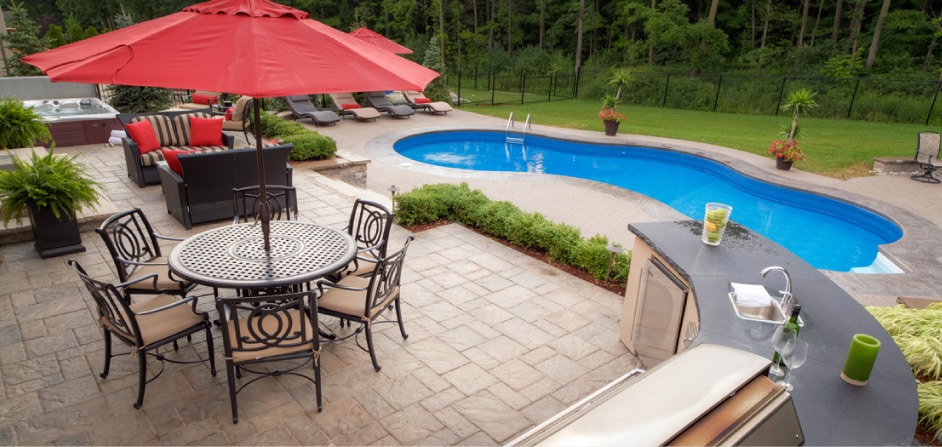 Woodworking for Landscaping in London
Trends for landscaping in London include custom woodworking in every element of your backyard.
Here are just a few of the many possibilities:
Imagine a custom pergola standing over your complete outdoor kitchen. Whether you want a rustic flair, or a modern, minimalist pergola, we can create it for you.
Choose to have custom wooden trellises surrounding your seating area for privacy and to allow climbing plants to decorate your outdoor living space.
Wooden decking can serve as a strong foundation for your whole landscape. We can create unusual shapes with custom decking that allow you to make the most of your space, even if it's an odd size.
Do you love teak furniture and its tropical ambiance? Or do dark wood elements inspire you and make you feel as though you're in a forest? Whichever style of wood you want, we're happy to use the materials you envision.