Your Primary Choice for Landscaping in Brampton
Considering new landscaping in Brampton? Whether you're rejuvenating your old landscaping or creating an outdoor living space for the first time at a new home, you want a unique design that allows you to use your space the way you want to.
The Natural Landscape Group always considers how you want your space to look and feel first. We consult with you throughout our design process to create a design that meets your every need, whether you want to cook, swim, or entertain outside–or all of the above!
The result is award-winning landscape design that feels right to you, solves your landscaping problems, and can even boost the value of your home. We also provide commercial landscaping designs for businesses that need to attract and excite customers.
Choose us as your preferred contractors in Brampton for residential landscaping, commercial landscaping and everything in between.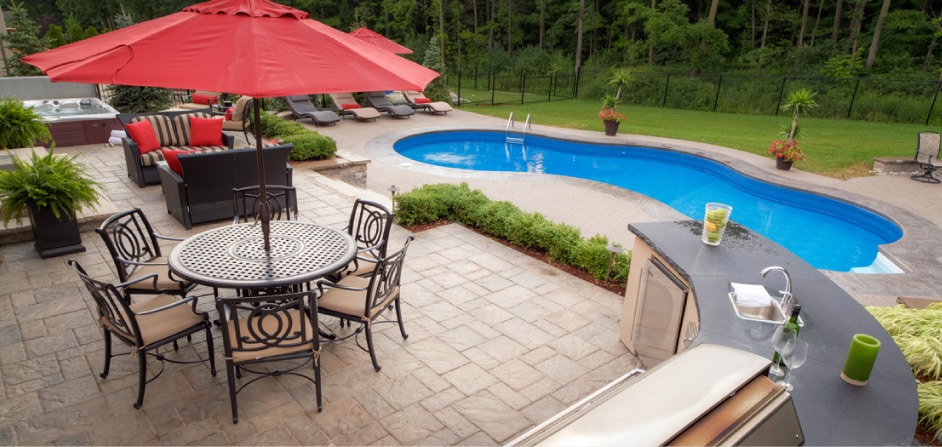 Custom Outdoor Kitchens and Outdoor Living Spaces
One of the most exciting trends for landscaping in Brampton is custom outdoor kitchens. Having your grill, counter tops, fridge, and other kitchen elements outside makes entertaining much easier and enjoyable for the hosts.
Imagine having one counter top for the raw food and another to place the cooked food. When you have space to prepare food outside, you can keep socializing with friends or supervising the kids while you work. Plus, having everyone wash their hands or clean up after the meal is simple with an outdoor tap.
Not only are custom outdoor kitchens practical, they're a beautiful way to enhance your overall space. The Natural Landscape Group designs outdoor kitchens to fit seamlessly with your other outdoor living spaces, whether it's a seating area or a garden. We offer unified designs that truly make your yard feel like an extension of your home.
Your brand-new kitchen space can be covered by a protective pergola, surrounded by the sweet smell of colourful flowers, or kept private with a green trellis full of blossoms. Tell us what you're looking for and we will nurture your ideas into the perfect landscape design.