Your First Choice for Landscaping Companies in Oakville
Looking for landscape design in Oakville? Your property, whether it's your estate or your business, deserves landscaping that enhances each area and feature in the best light. Great landscaping can boost property value and refresh you every time you step into the space.
At the Natural Landscape Group, we create stunning landscape designs that are original and incorporate the features you care about, whether that's an outdoor kitchen, native plantings, or a private patio that makes you feel at ease. We can also assist with pool landscaping and pool renovations to make your property feel like a true oasis.
Throughout the design process, we consult with you to find out what you need and what challenges your landscaping faces. Our solutions are always unique and beautiful, and we're committed to delivering results that you'll enjoy for years to come. Choose us as your preferred landscape contractors and learn how we can transform your Oakville landscaping today.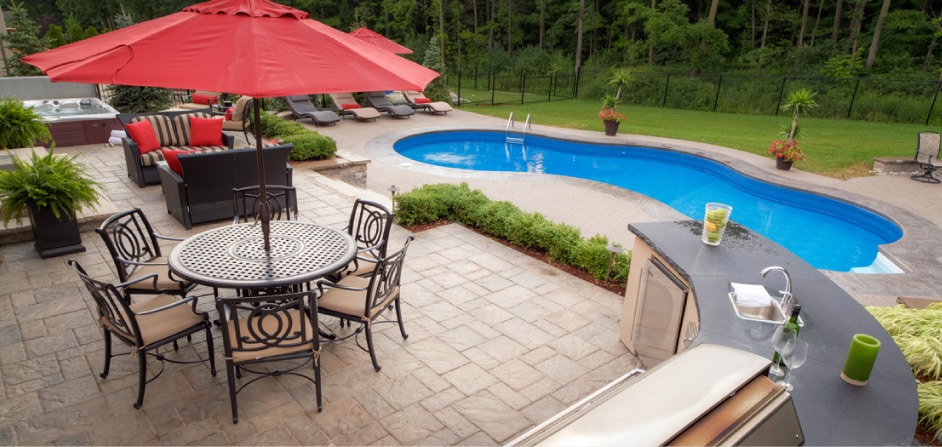 Pool Landscaping and Pool Renovations
We get many requests for pool landscaping and pool renovations in Oakville. After all, it's takes more than water to complete a pool space. You need a spot to relax nearby, some options for shade when it gets too hot, and other practical features to make your pool space more functional.
Here are just a few options for pool landscaping:
Water features: Create movement and enjoy the enchanting sound of running water by adding a beautiful water feature to your pool. Placing them on the edge keeps them from disrupting your swim and we can help you design the perfect layout with these considerations in mind.
Stone and interlocking: We have the skill to surround your pool with complex interlocking patterns. Not only is interlocking available in a huge range of colors and styles, next to the pool they warm your feet and provide a safe and comfortable area to sit and enjoy the water.
Plantings: Whether you want vibrant tropical plants next to the pool or delightful muted plants blooming in your natural pond, the Natural Landscape Group can make it happen.
Outdoor living space: Don't settle for harsh plastic seats next to the pool. Instead, we can set up a soft lounge area that sun bathers can fully relax in.