Reliable Landscaping in Kitchener-Waterloo
Transform Your Outdoor Landscape. Transform Your Life.
Inspiration for landscaping in Kitchener-Waterloo is all around us. Rural-inspired cottage gardens are common but so are modern green spaces with technology seamlessly incorporated. The Natural Landscape Group can achieve either vision, or anything in between, for your landscaping.
Are you dreaming of a pool-side paradise with smooth, warm stone that reminds you of the beach? Retirees might want a garden expansion with low maintenance plants. Young families might want a big deck space to host family BBQs, with a complete outdoor kitchen to make things simpler. Whatever you envision, the Natural Landscaping Group puts your needs first and works with you throughout the design process to get a landscape that truly has the features and feeling you need.
Choose us as your preferred landscape contractors in Kitchener and experience the difference of personalized landscape design in Kitchener.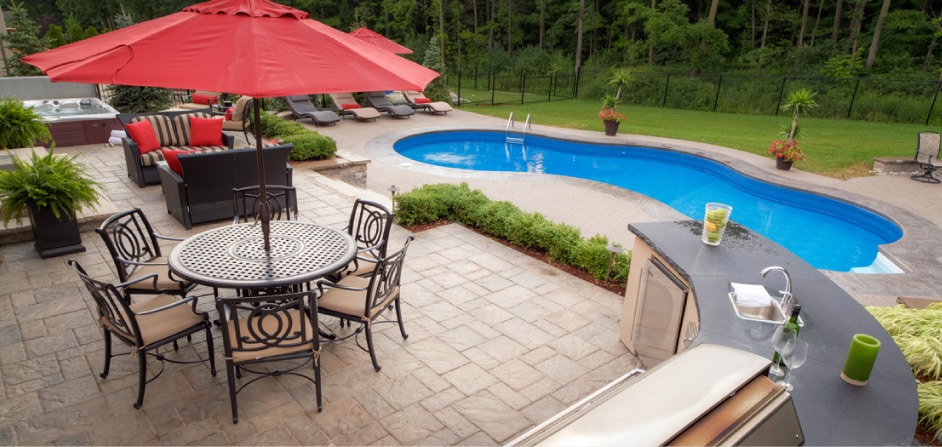 Natural Stone and Interlocking Contractors
As the premier interlocking contractors in Kitchener-Waterloo, we've designed some dynamic interlocking projects with unique styles and patterns. Here are just a few ways you can use interlocking and natural stone in your landscaping:
Interlock driveways: Interlocking driveways are beautiful and low-maintenance. We can advise you as to which patterns best withstand the force of being driven on and the natural elements.
Pathways of interlocking: Large, smooth pavers can help your walkways make a statement as they guide guests from your driveway to your front door, or from your back door throughout your yard.
Interlocking patios: Stone is a stunning alternative to wood for patios. Interlocking is just as stable and can be more visually dynamic than wood.
Poolside interlocking: Have a curved pool? No problem. The Natural Landscape Group can design the perfect pattern to fit seamlessly next to an unusually shaped pool.
Natural stone elements: There are many more ways to use stone and interlocking. You may want to use them to add architectural flair to your green space or as a growing spot for moss and other unique garden elements.