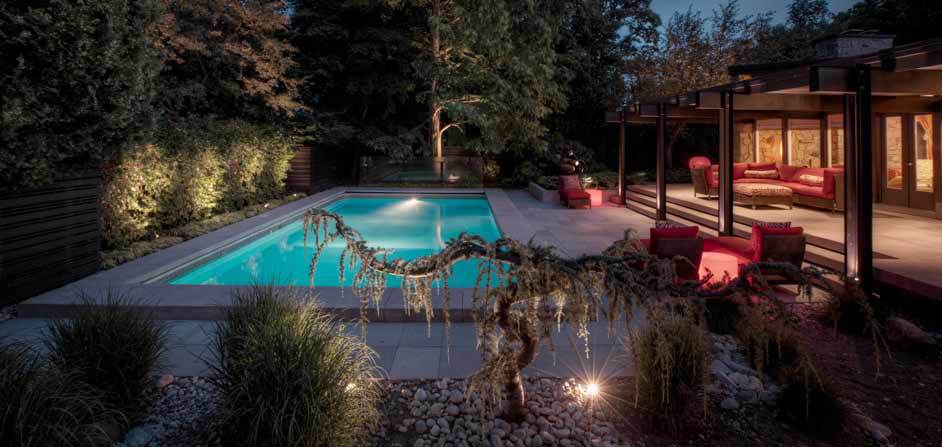 Picture this scenario:
You've updated the basement. It's now the ultimate entertainment area with things like:
Big screen TV.
Surround sound stereo.
Luxurious furniture.
Shelves for all your favourite books.
Video games for the kids.
It's perfect…except for one thing.
You forgot about the lighting.
Sure, it's not a problem during the day when sunshine gets through the windows. However at night, it's very dark and not a fun place to be.
Now, of course you'd add lighting to your primary indoor living areas.
So, shouldn't you do the same for your outdoor living areas?
Spend more time outside
When you add LED landscape lighting, you'll experience and enjoy your outdoor living spaces in a totally different way.
For example:
Cook a late night meal in your outdoor kitchen and enjoy it under the stars.
Keep the conversation going after the sun goes down by illuminating your pergola.
Take an evening swim with landscape lighting leading the way from the deck to the pool.
Look at it this way: You've invested time, money, and effort in bringing your backyard to life; just the way you want it.
Don't let sunset be the end of the time you spend there.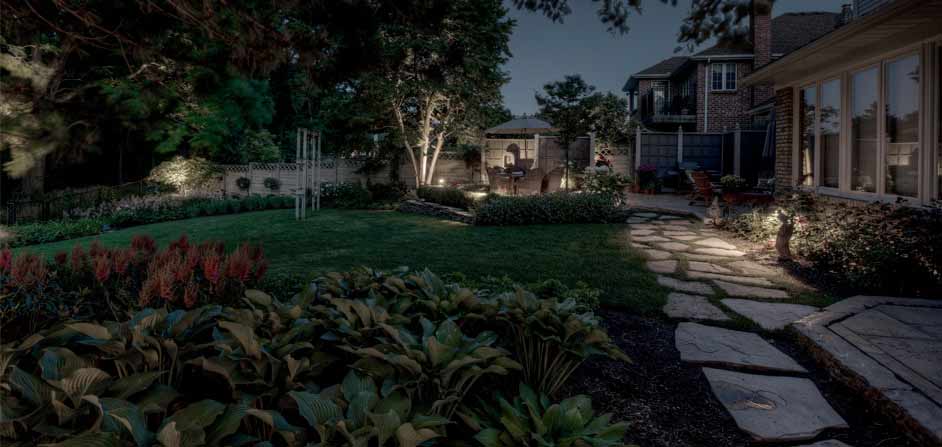 Improved security and safety
When burglars target a home, they tend to hide in dark areas around the property, such as:
In bushes.
Behind trees.
Side paths or entrances.
Behind garden sheds.
That can't happen when a backyard is flooded with bright outdoor LED landscape lights. Chances are, they'll move on or avoid your home altogether.
There are multiple lighting options available to you:
DUSK-TO-DAWN LIGHTS: These lights automatically turn on when the sun goes down and automatically turn off and the sun comes up.
MOTION ACTIVATED LIGHTS: As soon as someone steps in front of these lights, they turn on. The last thing a criminal wants is to have a bright light shining on them.
DIRECTIONAL LIGHTING: Use these lights to illuminate key areas of your outdoor living space. You can also adjust them to focus on a different location if you wish.
Landscape lighting also keeps you safe when you're outside at night. There's less chance of slips, falls, and stumbles on walkways, stairs, and paths when they're properly lit.
Why use LED lights for your outdoor living spaces?
At Natural Landscape Group, we only recommend LED lights for your outdoor living spaces.
Here's why:
LIFESPAN: LED bulbs are known to last for 50,000 hours.
LOW-LIGHT WARNING: When new LED bulbs, they dim first. That alerts you to schedule a replacement.
EFFICIENT OPERATION: It costs an average of $30 a year to run LED bulbs.
DURABILITY: LED bulbs are much better equipped to handle the hazards of being outdoors (wind/shaking, temperature fluctuations, etc.) compared to other bulbs.
FEWER BUGS: Insects are less likely to be attracted or drawn to LED lights.
Want a new outdoor living space? Don't forget the LED lights
After you've transformed your backyard from boring to beautiful, make sure you can spend time there at night too.
LED lights extend the enjoyment of your outdoor living spaces. They highlight key features, provide extra safety, and are incredibly efficient too.
Got questions? Need more info?
Schedule a discovery meeting with us today. We'll discuss all your landscape and lighting needs in a friendly one-on-one setting with no pressure at all.