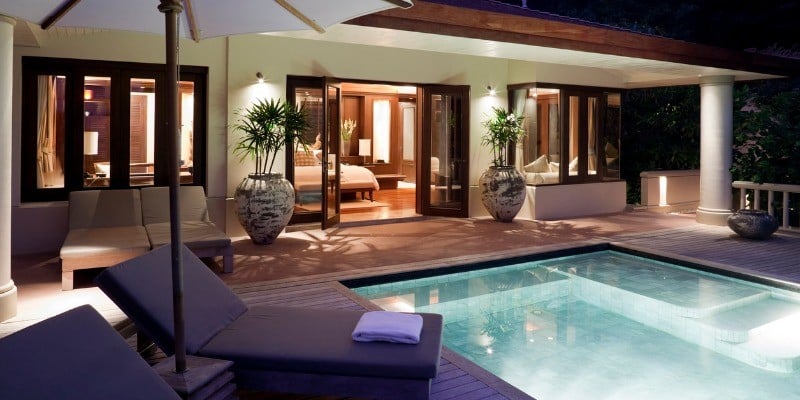 Energy efficient outdoor lighting is an integral part of your landscape. It can add a dynamic flair to an already beautifully crafted outdoor garden, lawn and pathway design, as well as highlight unique features that make your landscape truly standout. Without lighting, it's more difficult to enjoy your outdoor space in the evening or at night. Plus, the proper outdoor lighting can make your outdoor space much safer to navigate at night. These are just a few reasons why lighting should be incorporated into your landscape design from the start.
Of course, you don't want to spend too much money in the long run lighting your yard. That's why we recommend using energy efficient outdoor lighting to reduce your impact on the environment and save you a bit in expenses for utilities, while still enhancing a stunning landscape.
Here are several ways to incorporate energy efficient lighting into your overall landscape design.
Highlight Features with Outdoor LED Lighting
Lighting can highlight the features of your landscaping that you love the most. Commonly, you'll find bright LED lights beneath focal point plants, waterfalls and stone features. In the evening, the light puts more emphasis on these stunning features which can cast dynamic shadows that add even more depth and eye-catching detail to your space.
As LED lights produce significantly less heat than incandescent lights, they are safe to place next to plants without fear of burning their sensitive leaves. Plus, they use less energy than other types of lights.

Create Safety with Motion Detecting Lighting
Outdoor landscape lighting isn't all about beauty – it may also be necessary to keep your home safe and secure. Motion detecting light can be helpful to deter trespassers from accessing your property. But it can also keep you and your visitors safe from hazards. Consistent motion detecting lighting should be used to illuminate potentially dangerous areas of the property, like steps, water features and potential tripping hazards.
Illuminate Pathways with Low Voltage Landscape Lighting
Along walkways, lights serve both to add beauty and security to your home. It's important to choose quality, low voltage landscape lighting for this purpose. These don't require the heavy duty wiring that other types of lights might, which makes it easier for you or your landscape designer to hide the wires and avoid creating a tripping hazard along your pathways.
It's possible to get very creative with pathway lighting. Historic homes can benefit from wrought iron lighting that lends more timeless elegance to the property, while those who love sprawling, natural gardens may prefer whimsical, fairy-like lighting. There are endless lighting style choices in between, so be sure to check out our portfolio for some inspiring ideas.
Which Outdoor Lighting Works for You?
At the Natural Landscape Group, we create stunning landscape designs with the right energy efficient outdoor lighting that works with your home to help you make a statement and protect your investment. Contact us to talk about your energy efficient outdoor lighting options.