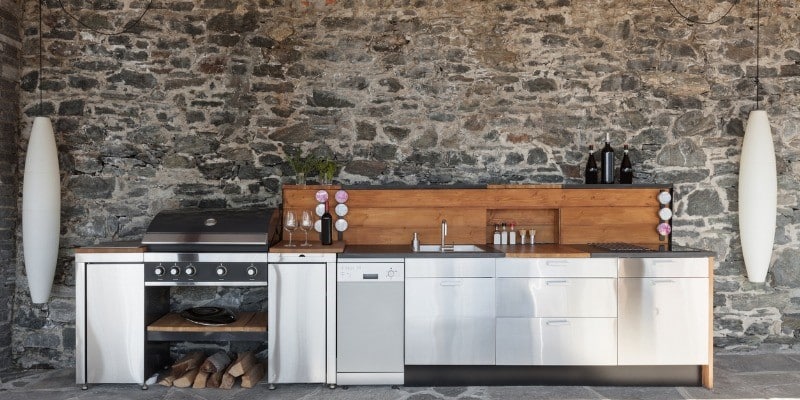 Your basic outdoor kitchen plan can make food prep much more convenient and safer, or can get in the way of your outdoor entertaining. It's all about the features you include and how you lay them out.
Here are some tips to help you envision an outdoor kitchen that can make your food prep a breeze.
Key Features for Outdoor Food Prep
Outdoor Kitchen Sinks
A full outdoor sink is a must-have for any outdoor kitchen. You need running water to clean off work surfaces, glasses, plates, and utensils. Plus, if your family or guests have been outside or in the pool for a while, they will want to wash their hands before they start eating, without having to go inside.
A full, deep sink gives you the most room to work with. However, many outdoor entertainers can get away with mini-sinks too. You may have more of a challenge cleaning dishes in them but they are perfect for a quick rinse with water only (it's not recommended to use soap as the water drains into the garden). Smaller sinks will also preserve your counter space.
Refrigerators and U-Shaped Outdoor Kitchen Designs
Keeping a few coolers nearby for drinks and food is a hassle. You have to buy ice, replace it frequently on hot days, and empty the coolers out afterward. It's much more convenient to upgrade to an outdoor refrigerator. This way you can keep your drinks and certain foods at the perfect temperature without worrying if they'll spoil on a hot day. Keep in mind that while some costly refrigerator models can handle raw foods, it's generally not recommended to keep them for a prolonged period of time. You're better off sticking to drinks and items you will consume that day.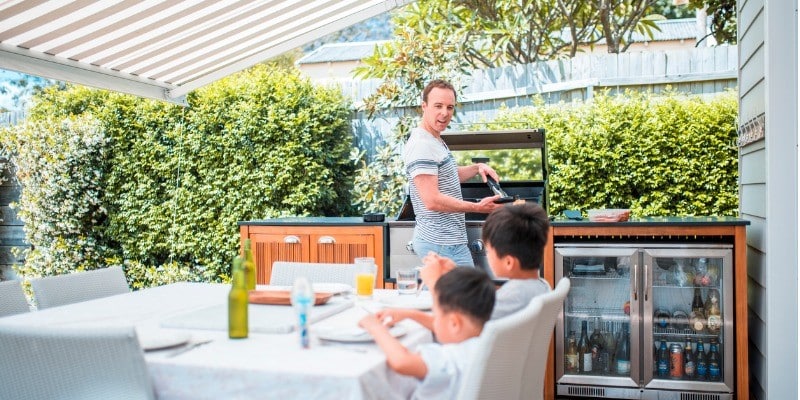 A U-shaped outdoor kitchen design is best if you want to incorporate a fridge. With this layout it's best to avoid positioning the fridge, even a mini-fridge, right next to the grill because the extra heat will affect it. The space next to your grill or pizza oven is also better left for food prep and storage. Having a refrigerator across from the grill is the most convenient spot for it.
Utilizing Multiple Grill Surfaces
The placement of the grill surface is key to efficient outdoor kitchen designs. You want to have counter-space on both sides of the grill so that you can store uncooked meat on one side and cooked meat on the other. This helps avoid cross-contamination and keeps your food safer.
Having multiple grill surfaces is even more convenient. This way you can cook foods that need drastically different cooking times, like shrimp and burgers, on the same surface. You can also cook up elaborate meals with multiple meats without having to run inside to cook some of them. Here are some great recipe ideas for grilling outdoors that might spice up your barbecues this summer.
Need ideas for an outdoor kitchen plan this summer? Natural Landscape Group can take your basic outdoor kitchen plan and craft it into something stunning and convenient. Reach out to us today to discuss your ideal outdoor kitchen layout, materials, and features.