You've decided to have Natural Landscape Group build a structure for your outdoor living space.
(Good choice, by the way).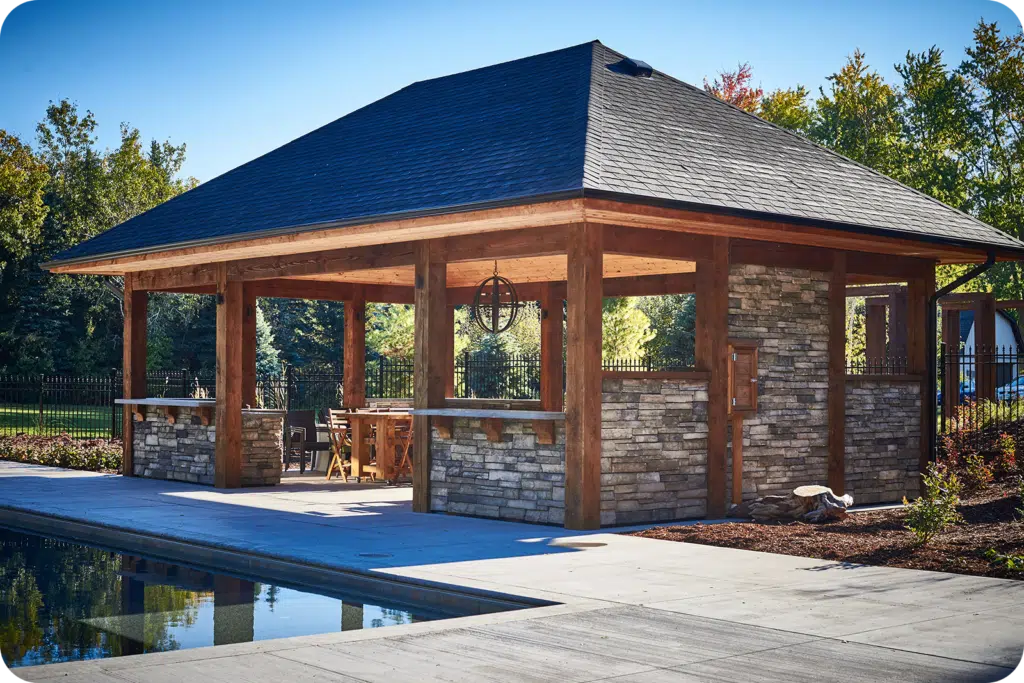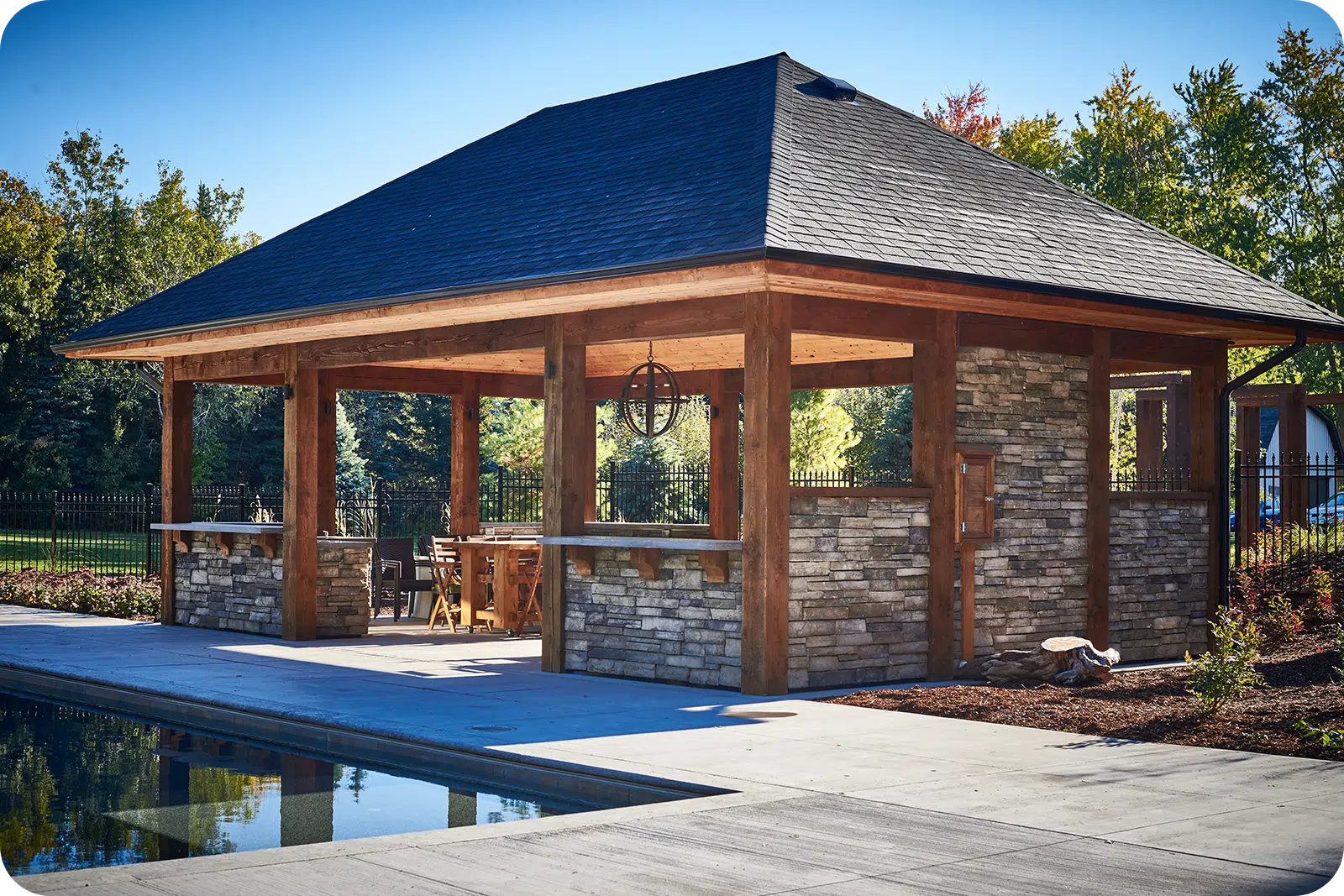 Now comes the tricky part. You know you don't want a common gazebo. Instead, you're looking for something truly unique and different.
That means you're looking at things like:
Arbors.
Cabanas.
Pavilions.
What's the difference between them? What's right for your backyard landscape design?
Read on to find out.
Arbors and pergolas
Firstly, arbors and pergolas are very similar in their design and appearance. That's probably why many people frequently interchange the terms.
However, there are some significant differences; especially when you consider what and how they're used.
Arbors
Considered a freestanding structure.
Can be moved/repositioned as necessary.
Generally serves as an entrance to a garden area.
You don't really sit, relax, and entertain guests underneath an arbor (although it is possible). Rather, arbors are used to define where a garden/patio begins.
Design-wise, arbors are fairly straightforward structures:
Two or four posts.
Slatted roof spanning the posts (can be straight or arched).
The sides can be wide open or closed with lattice/trellis.
Arbors are ideal for planting and growing climbing vines.
Usually, arbors are made from wood, vinyl, or even metal.
Pergolas
Built over an existing landscape feature (such as a patio or deck).
Can be a stand-alone structure or attached to the back of the house.
Pergolas have a defined roof which people can sit under.
Now, if you're looking for something majestic and monumental, a pergola is right up your alley. You've probably seen them in parks or at outdoor banquet centres.
Pergolas are designed to create shade (you can leave the roof open to the sky if you wish) spanning the length of a walkway, or the entirety of a seating/gathering area.
Pergolas usually have the following design elements:
Four or more posts or columns.
Traditionally flat roof.
Minimal openings to allow gentle breeze and sunlight to pass through.
Lastly, pergolas can be built from wood, vinyl, fibreglass, aluminum, and even brick and natural stone.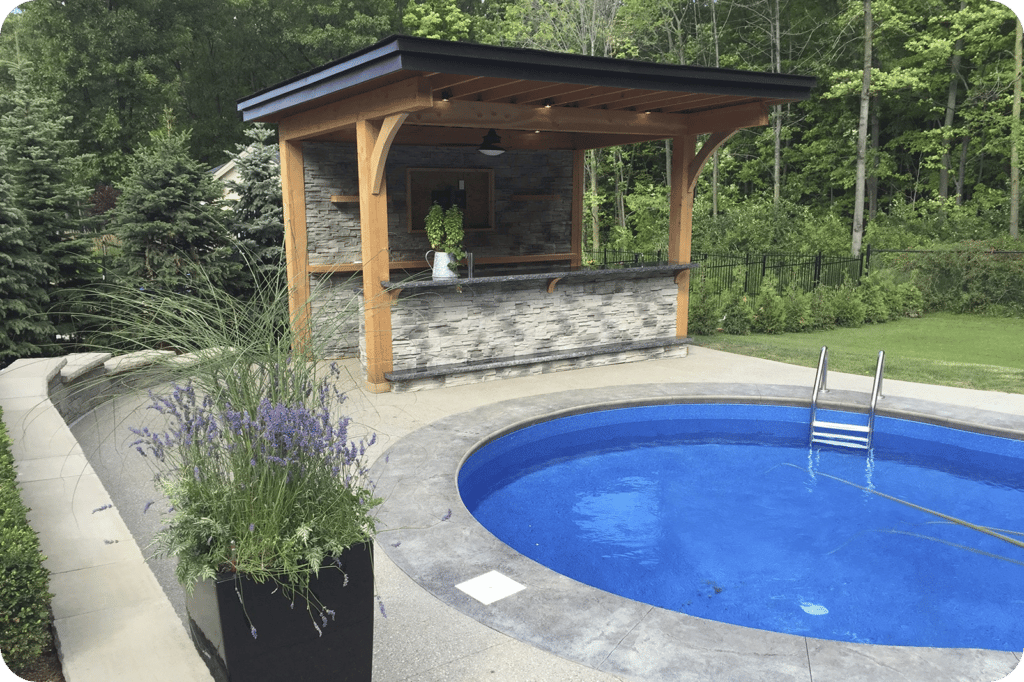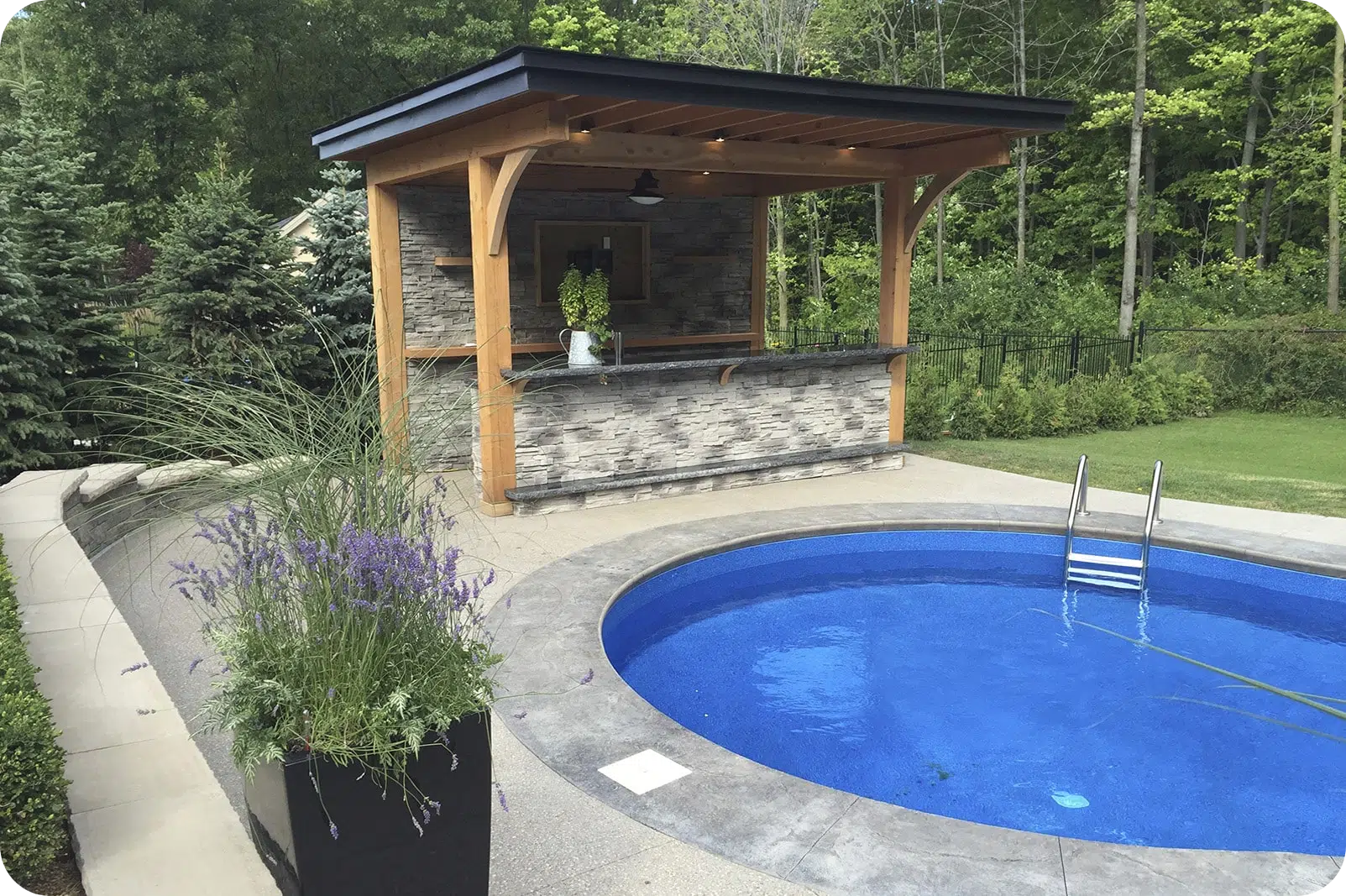 Cabanas
The mere mention of the word cabana invokes images of lounging by the beach at some resort where the weather's always perfect.
That's actually quite accurate. Historically, cabanas are found in tropical climates near natural bodies of water.
Close your eyes and imagine a traditional, almost primitive hut.
That's the basic design of a cabana, which hasn't changed much over the years:
Triangular or angled roof.
At least one open wall.
Allows for easy privacy (for example, curtains can be drawn closed over the open side).
Much smaller than, say a pergola, cabanas are more about quick function (such as changing into a bathing suit or grabbing a quick drink) vs. lengthy relaxation.
Pavilions
Pavilions come in all shapes and sizes. Although a little bit hard to pin down, pavilions are defined by Wikipedia as:
"A subsidiary building that is either positioned separately or as an attachment to a main building. Often its function makes it an object of pleasure."
Bringing that definition to your landscape project, a pavilion is versatile and allows you to do, among other things:
Dine.
Entertain guests.
Enjoy conversation.
Ever been to an outdoor wedding? Ever sit underneath a long, rectangular structure with pillars, open sides and a pitched roof with outdoor lights?
That's a pavilion.
In addition to the pitched roof, here's how you can spot a pavilion:
Rectangular shape.
No sidewalls.
Room to accommodate many people.
Finally, some pavilions have space for things like outdoor kitchens, small stages (for speeches and other performances), in addition to seating and socializing.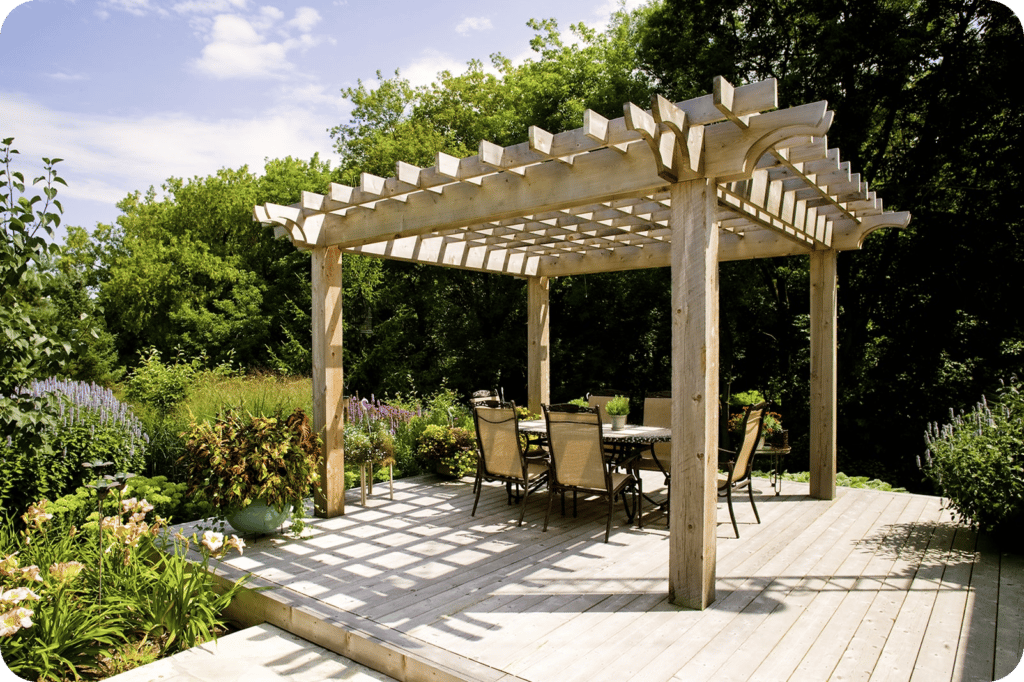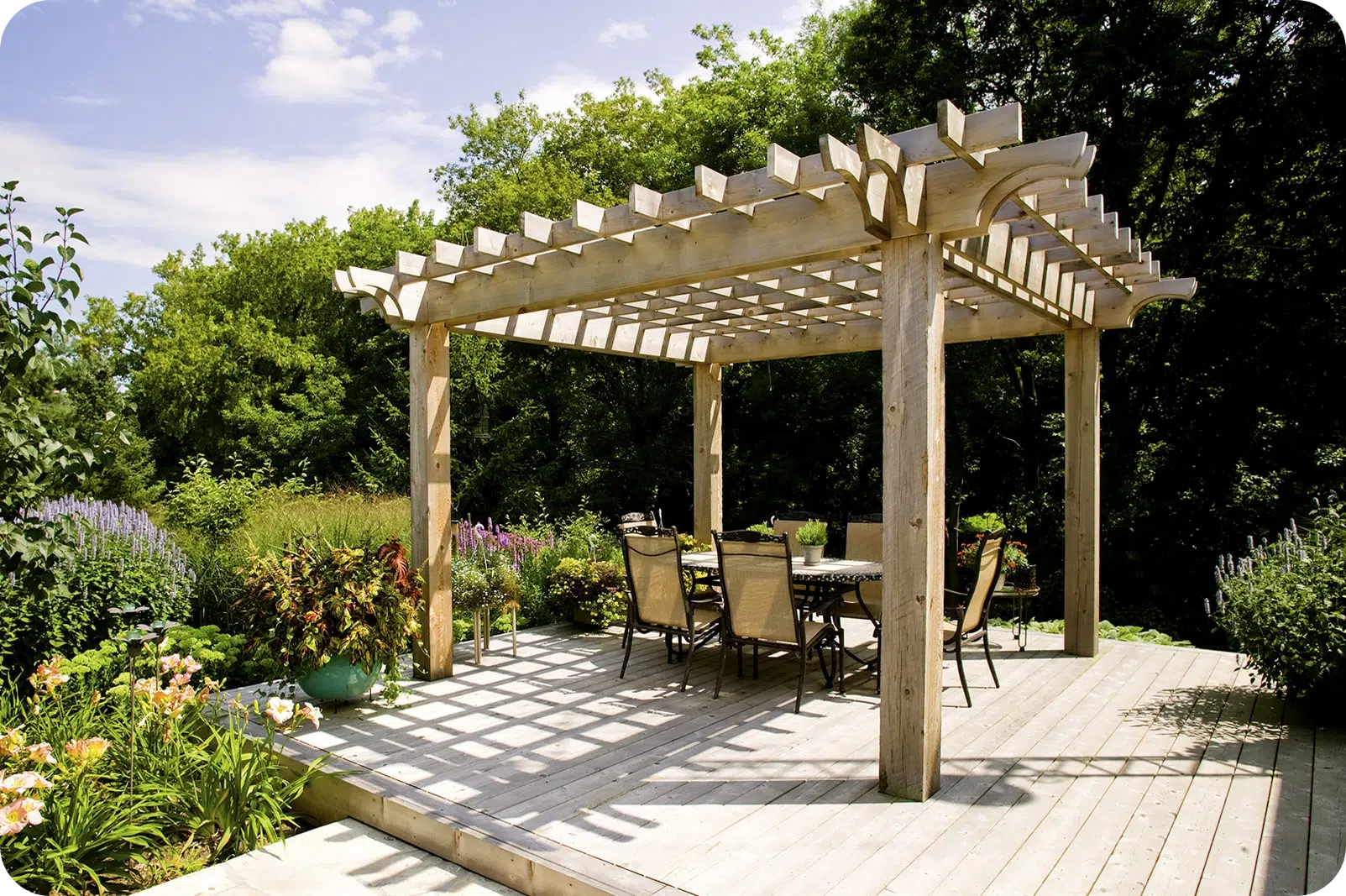 What's right for you?
Can't decide between an arbor, pergola, cabana, or pavilion?
While they're all beautiful, how you intend on using your outdoor living space will determine which structure best suits your needs.
Arbor
Smaller backyard.
Looking to add an accented touch vs. a large structure
Pergola
Larger backyard.
Want to cover an existing space (such as a patio or deck).
Having a roof is important to you.
Want to enjoy the outdoors with protection from things like direct sunlight.
Cabana
Have a swimming pool in your backyard.
Looking for a structure to compliment your current design; not necessarily be a focal point.
Smaller structure which isn't used for extensive entertaining.
Pavilion
Long backyard.
Doing frequent entertaining with many guests.
Know what you want? Not sure? Contact us
Already know what structure you want to bring into your backyard? Need help deciding what to build, and where it should go?
Either way, it's no problem.
Starting is incredibly easy. Contact the team at Natural Landscape Group today for landscape design in Burlington, Hamilton, Toronto, London, Kitchener-Waterloo, Niagara, Brampton, Oakville, and the surrounding area.
From there:
You tell us about your plans and what's important to you.
You get the 1-on-1 attention you deserve.
You're in total control over the conversation.
You decide what the next steps should be.