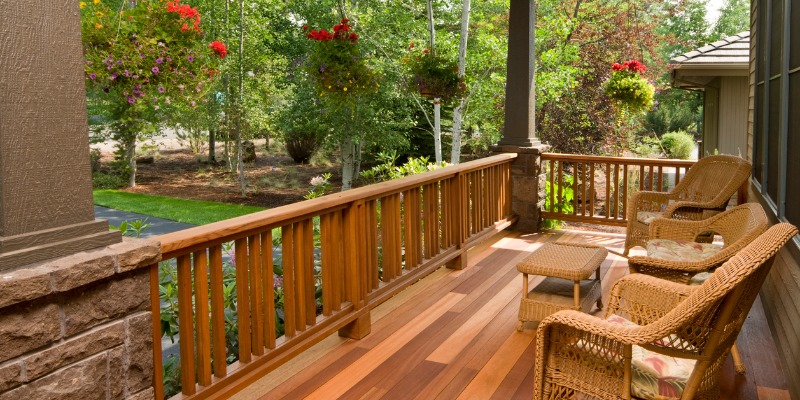 In addition to the size, style and location of a new deck, one of the more important decisions you'll have to make is what type of decking material to use. The classic choice is wood, but there are several alternatives available now that have their own benefits, and may give you some pause for thought. 
Here is a quick comparison of the different types of decking to help you make an informed decision. 
Common Types of Wood Decking
The wood deck is a classic that many homeowners swear by. It gives a natural look and feel and is easily accessible at your local lumber yard or home improvement outlet. Most wood decking is relatively cost-effective and you have some flexibility in that you can stain it any number of shades to match your tastes and landscape design. The best type of wood for a deck depends on your individual tastes and budget, but here are a few of the most common types. 
Pressure Treated Softwood – Pressure treated woods like pine, fir and hemlock are popular wood deck choices. These work well if you are budget conscious and they are easy to find. You can also use pressure treated wood for the stairs and railings on your deck. 
Cedar – A cedar deck is sure to be a beautiful deck, as it has a classic look and smell that makes you feel right at home. It is naturally resistant to rotting and insects, resistant to changes in the weather and temperature and doesn't require a lot in the way of maintenance. 
Redwood – Redwood is light and strong and easy to work with but can be difficult to find. It used to be a common decking material, but has since been overtaken by other types of wood and wood alternatives.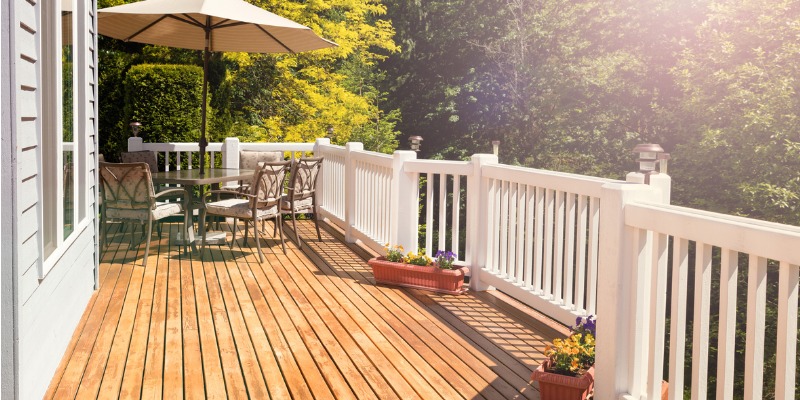 Wood Alternatives 
Alternatives to natural wood decking include materials like wood composite, PVC and Trex. Here is some information on each one of these materials. 
Wood Composite – This is a mixture of wood particles and high-density polyethylene, plus additional binders and preservatives. It is often made in an eco-friendly way from leftover sawdust and recycled plastic products, which appeals to some people when they are trying to decide on composite decking vs. wood, but it does cost more than pressure treated wood decking. Composite decking is very low maintenance because you never have to stain it and won't have to be concerned with rotting or splitting. 
One specific type of wood composite decking is called Trex. This is a composite material that is created using recycled plastic film and reclaimed wood for the look of natural wood without any of the drawbacks associated with a wood deck. When you put wood deck vs. Trex, you'll see there are many advantages that a Trex deck has over natural wood. In addition to the low level of maintenance, there is also no risk of splinters or insect infestation, the colour never fades and its production doesn't contribute to deforestation.   
PVC Decking – PVC stands for polyvinyl chloride, which is the same material used for standard plastic fencing. This material is lightweight and can have a protective shell added that gives it a wood-like appearance. Like wood composite, you don't have to worry about PVC decks rotting or splitting. Some people aren't fond of the feel of PVC decking because it feels more like plastic and less like a natural material. 
A beautiful deck is possible and with different materials, you can make the right choice for your home. Contact Natural Landscape Group for your next decking project. 
Sources: 
https://www.thespruce.com/comparing-deck-materials-1822358 
https://www.trex.com/why-trex/deck-material-competitor-comparison/trex-vs-wood/ 
https://www.houselogic.com/by-room/yard-patio/deck-options/ 
https://www.thedeckstore.ca/blog/the-pros-and-cons-of-cedar-wood-decking-material/