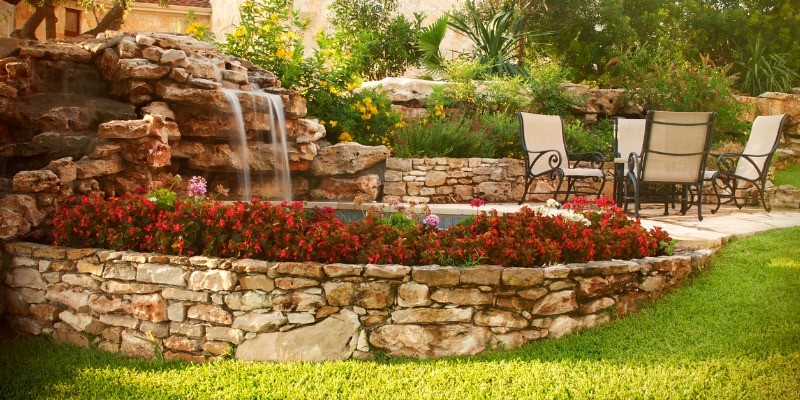 Landscape trends are always changing, and this year they are changing in a major way to start off the decade on some new trajectories. The connection between outdoor and indoor space has never been stronger, and the need for low-maintenance, environmentally friendly, natural design is in vogue. At Natural Landscape Group, our designers are especially familiar with these design objectives, just take a look at the natural spaces in our gallery.
However, we also always have our eye on the future and are already looking into the major trends that will shape the decade and your landscape. This is our landscape design style guide, a look into the major styles and each little feature that is in this year, and probably well into the future. Get ready to be inspired and learn about what kind of landscape will suit your tastes.
Landscape Design Styles
While we tend to focus a lot on the individual elements of design when we talk about landscape trends, there is also the overarching style. Landscape design styles aren't as familiar to most homeowners as interior design styles are. But, if you've heard of English cottage gardens, then you've heard of landscape styles akin to styles you might find inside homes.
Design styles inspire certain patterns, plants, structures, and even values on the landscape. The most popular style we work with are modern and contemporary styles, and we expect them to be most popular this year and through the decade. However, it's useful for you to learn a bit about the other styles, how they might differ, and what elements from them you might enjoy. We'll also go over what characterizes the modern and contemporary landscape design elements.
Italian Style Landscape
Italian gardens are more about shape and control than about colour and flowers. You'll find that these gardens use a lot of hedges and evergreens, carefully shaped into geometric patterns, and are often symmetrical. Italian landscapes often feature Mediterranean style plants, including upright junipers and trellised vines or trees. They may also use terracotta and other unique, warm materials.
Japanese Style Landscape Design
The spiritual traditions of Buddhism, Taoism, and Shinto often inspire Japanese gardens. There are few straight lines or high regimented structures. Instead, pathways are soft, trees are shaped to be graceful, and water elements are prominent. Minimalism is the quintessential characteristic. Common materials include gravel, bamboo, stone, and wood. Japanese style landscapes should be places you can relax.
Spanish Style Landscape Design
As with Italian gardens, Spanish style landscape design is all about symmetry. They rely on walkways and structured courtyards, that help to segment space and add a lot of wall space for décor. Fountains tend to be tiered and end in a large reflecting pool designed to be gazed into. As their climate is harsh, Spaniards love to focus on drought-tolerant native plants.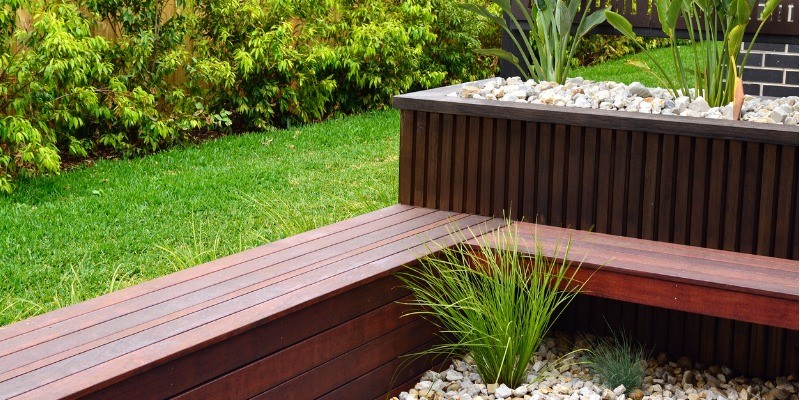 Modern and Contemporary Landscape Design Elements
Few modern gardens in our area will have a distinct culturally inspired style from another part of the world. While they may include elements from other styles, they tend to focus on modern, contemporary elements that work well with modern life and what modern people want from their outdoor spaces. 
Modern landscape design is often about minimalism, uncluttered spaces that have clean edges. We focus on fewer and consistent materials and lines. Here are some design elements for this style of landscape: 
Wildlife attractors: You can use 

simple

 plant

ings

and 

water features

, and mineral sources

 to attract wildlife to your landscape.  

Colours

: This decade we

'

ll

 focus on bright, intense 

colours

 accented carefully into simple and calming backdrops of grey tones

. Some might choose to incorporate classic blue, Pantone

'

s 

colour

 of the year for 2020.

Finishes: With a focus on maintenance-free landscapes, you

'

ll

 find that many modern finishes are simple to clean, such as aluminum railings

 or smooth concrete

.

Lighting: We

'

ll

 talk a bit more about lighting later, but for now, note that the latest trend is using lighting

 fixtures

 that 

aren

'

t

 visible. The lightbulb and container 

are

 embedded in hard elements of the landscape, so all you see is the light.

 
Landscaping Trends
These landscaping trends will maintain their popularity throughout the year and the decade supporting any of the styles we discussed above. Many will work very well with the hottest trends in modern landscaping. 
Rooftop Balcony Gardens
Rooftops don't need to just be empty space. If you're looking for a more entertaining room or more green space, turning your rooftop into a garden is a lovely idea. It will mean installing a new kind of roof and checking to make sure that the roof can handle some foot traffic, but the benefits are huge. Imagine having a blissful green garden overlooking the neighbourhood, or whatever lovely view you have beyond your doorstep. It's easy to see why these have become popular. 
Vertical Gardening
Another way to maximize the space in your home is to garden up, instead of across. Many of the garden structures we mention later in this guide, including pergolas and gazebos, are the perfect foundation for gardening up. Vines can add flowers, smell, and shade to any space in your garden. Plus, a few vertical elements will help create privacy in your yard and define space for different uses.  
Drought Tolerant Planting
This is one of our absolute favourite trends that we encourage all homeowners to make use of in 2020 and beyond. There's no need to pour copious amounts of water into your landscaping every week, especially at the height of summer when you may need to conserve water and lower your bill. Drought tolerant plants, especially those that are native to your area, will perform better in your landscape without using as much water, or without requiring much other maintenance. The benefits of this style are part of why people are moving away from huge, green lawns and towards more native plantings.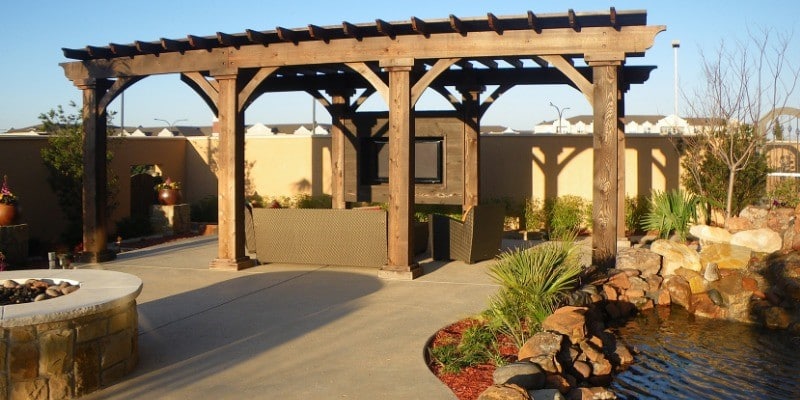 Outdoor Structures
It's wise to consider what kind of structures you want to add shape and function to your landscape. Different structures do go in and out of vogue over the years, usually reflecting the current lifestyle and people's tastes. It should be no surprise then that as people demand more function from their landscape, multi-purpose structures become more popular. Here are the trendy outdoor structures for 2020. 
Outdoor Kitchens
As homeowners have a new emphasis on multi-functional landscapes, the outdoor kitchen is becoming a very hot trend. However, a kitchen is a complex space, with many elements. Which structures you want to include in your outdoor kitchen likely depends on what you want to do in it. Here are some potential structures you might consider: 
BBQ

 

Stove and oven

 

Counter space

 

Bar space

 

Fridge or freezer

 

Sink

 

Cupboard space

 

Smoker

 
Pergolas
 and
 Cabanas
These two tall structures are excellent for providing shade for seating. Grow vines up the side to get some more retreat from the sun or finish off the roof to give more shelter.  Not only do these structures contain multiple elements such as fire, entertainment, food, and drink but they also help define space in your yard and you can use walkways and plantings to connect them seamlessly into your landscape design. 
Materials for Hardscaping
The type of hardscaping materials you use is also important. The trend this year is to use multiple, contrasting materials. Pair dark and light materials, or smooth and rough materials for maximum contrast. 
Complementary Features
Once you have your structure, you may also want to add these trending complementary features to your landscape. 
Landscape lighting: Landscape lighting adds security, allows you to move freely in the landscape

,

 and can boost your 

night-time enjoyment of your outdoor space as well as 

curb appeal. One big trend is to use lighting to accent specific elements in the landscape, especially architectural elements

 such as trees and sculptural pieces or long clean lines and surfaces to make a statement

.

Retaining walls: 

Take advantage of 

all of

your outdoor space by leveling the playing field with retaining walls.

 They also add beauty and define spaces. A retaining wall needs to be built properly to be functional and to stay standing for years to come. So, be sure to consult with the professionals.

Garden water features: Water features are a great way to add tranquility and refreshing ambiance to your landscape. It

'

s no wonder that they will continue to be popular through 2020 and beyond. Choose 

the latest filters and additives

 

to reduce your maintenance

 while you

'

re at it.   

Fire features: Fire features are great because they can help extend the usable season for your outdoor space. Plus, they also work well with outdoor kitchens. Try a firepit to cook hotdogs or other campfire foods. Or, have a stone oven to produce more sophisticated foods, like an authentic stone

–

oven pizza.

 
As you can see, landscape design trends for 2020 and beyond will focus on low maintenance plantings as well as simple and clean uses of spaces to make use of your landscape day or night, for relaxation or entertainment. They will enhance the natural beauty that is already in your neighbourhood and in your home. At Natural Landscape Group, we value the environment and create sustainable landscapes that are also beautiful. Contact us today for your landscaping needs.