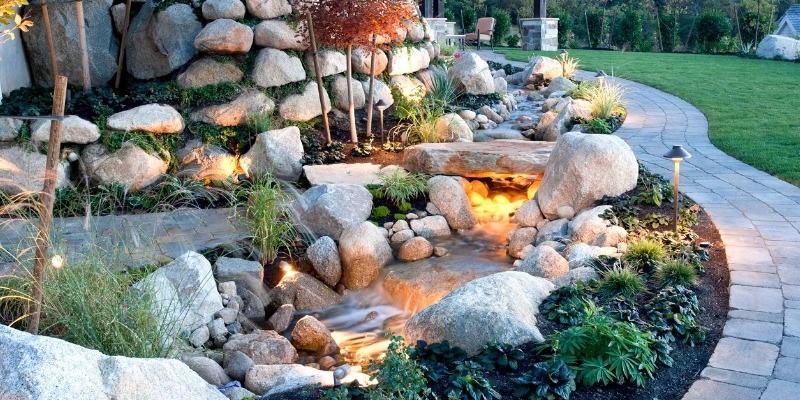 Most people love the idea of a water feature, with the sounds, calming refreshment, and the koi, birds, or other animals the water can house or attract. However, many people hesitate to install water features because they often come with a great deal of maintenance. That doesn't have to be the case, though. We can install several low maintenance water features in your yard. Here's what you need to know about them.
Why are Water Features High Maintenance?
Essentially, water isn't easy to keep clean and healthy. Large water features need pumps, filters, and potentially even chemicals/biologicals to keep it clear and free from algae. Large items like leaves and litter end up in the pond and need to be filtered out by hand.
Also, if you want to have some sort of wildlife in your pond you may need to feed it or protect it from predation. Koi must be fed once a day and usually need protection from local herons or other predators. Frogs and other pets may need the same care.
Then there are the long-term issues, such as a pond or waterfall cracking or leaking.
Low Maintenance Water Features
However, water features don't have to be this high maintenance. We can create and install a low maintenance water feature for you. Here are a few of your options.
Pondless Waterfalls  
Love the sound of trickling water? Then a pondless waterfall is a great option. You get the sound and look of a waterfall, but the water is brought back into the pump instead of forming a pool. This way, the water never gathers to collect algae, leaves, or other debris. While you need a pump, you typically don't need a filter.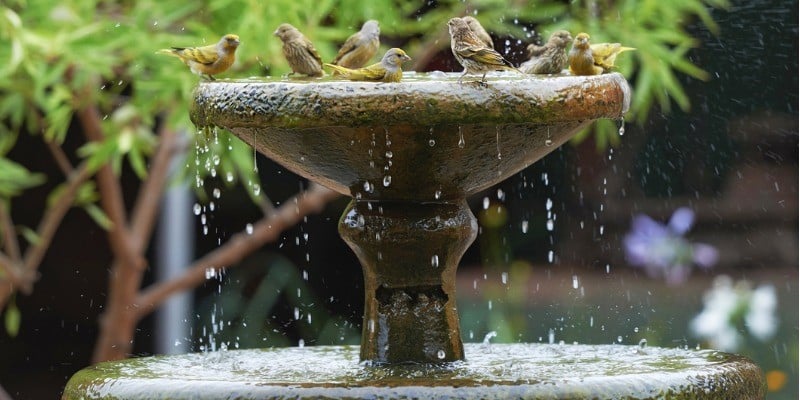 Bird Baths or Fountains
Smaller birdbaths and fountains are much simpler to maintain than larger ponds. You may not have to deal with a filter or a pump if you choose a bird fountain. When the water gets dirty you can simply dump and replace it.
Still, many people will prefer a moving fountain to prevent giving bugs a place to breed. If that's you, you might like a small, pre-fabricated fountain to stand in your landscape. These won't need excavation or yearly maintenance. They also won't need a filter.
Instead of a fountain, you may prefer a water basin feature, which is similar except that the water falls into a basin and out onto rocks below. This gives landscapes a more natural feel.
A water feature can enhance your landscaping while also providing great ambiance. Maintaining one of these features may be putting you off but rest assured the experts at Natural Landscape Group will create water features that are not only beautiful they are also low maintenance.
Sources:
http://northcoastgardening.com/2014/11/low-maintenance-water-features/
https://www.penrithloans.com/2019/10/five-low-maintenance-water-features-to-enhance-your-yard/